We're in D.C. for an important week of lobbying and meetings with our elected officials and agency representatives. The American Hiking Society and Partnership for the National Trails System are hosting a large group of us on Capitol Hill — and you can bet we are working hard to protect and expand the National Trails System and our public lands…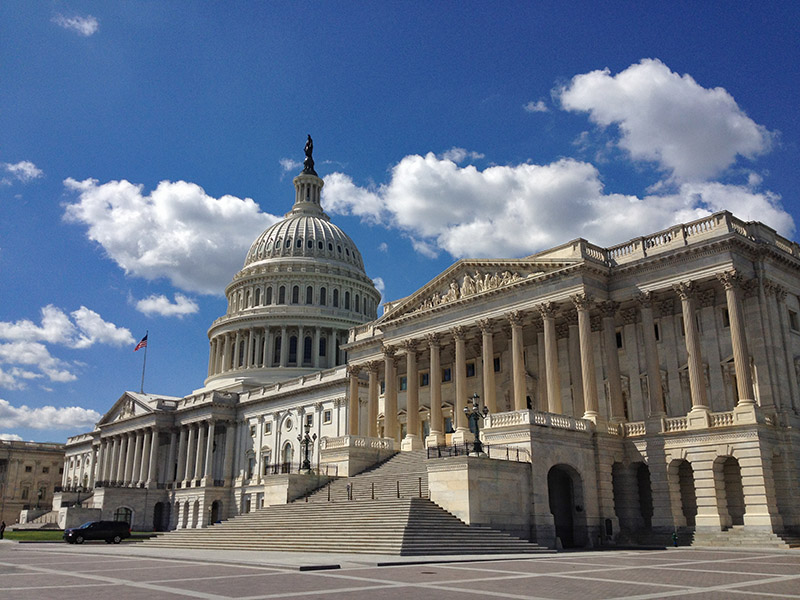 It's the beginning of a new session of Congress, so plenty of legislation from last year still has to be re-introduced — some bills that our trails community anticipates have not yet been released. So we're here in D.C. to promote those bills that do exist and in general, work to actively protect our public lands. Between us we will be reaching every legislator on the Hill.
Here are the bills and issues we are currently addressing:
H.R. 502 – Land & Water Conservation Fund (LWCF)
The LWCF has been funded through 2018 but we need to plan well in advance to renew this important legislation, which provides permanent funding for parks and trails in all states.
This bill — introduced by Rep. Raul Grijalva (D-AZ) of the Natural Resources Committee and Rep. Patrick Meehan (R-PA) — would authorize the Fund and we are currently seeking additional co-sponsors. We have been reminding legislators that it's a great way to support outdoor recreation, conservation goals, national trails and the outdoor economy. This tends to be a popular cause.
It's important to point out that the revenues for this fund originate from fees collected from offshore oil and gas leases by the federal government — not from taxpayer-derived funds. The original concept was to use "a small portion of the income from the depletion of one public resource to conserve another public resource." We expect this to succeed but it will take a lot of work.
Wildfire Disaster Funding Act
Most likely this bill will be re-introduced from last session, though it may be part of a larger legislative package (not just as a stand-alone bill). In any case, we are referring to the language in this bill as a reference point for discussions with legislators. We need a permanent plan and sufficient funding to address wildfire disaster preparation, as we face a threatened landscape of wildfires across the country.
Increased Funding for Trails in National Forests
About 155,000 miles of existing trails in our National Forests need maintenance, to be funded directly from Forest Service budgets. This work has fallen behind in recent years and, according to the American Hiking Society, the current annual budget is only $77 Million (about $500 per mile). So we're looking to address this maintenance backlog with increased funding to provide "better, safer recreation opportunities in our national forests." This issue specifically relates to national trails that pass through our many national forests.
Other important issues
The beloved Appalachian Trail (A.T.), managed by the National Park Service, is currently being threatened by energy development projects.
The A.T. was originally established to preserve the Appalachian Mountain range and provide a "wilderness retreat from life in the increasingly urbanized eastern United States." It now has 3 million visitors per year, according to the Appalachian Trails Conservancy (ATC).
The ATC let us know we need to defeat a proposed pipeline that would destroy an area along the trail and we are asking citizens and legislators to act immediately on this issue. Pipelines would transport natural gas from Ohio, Pennsylvania, and West Virginia to ports along the East Coast, with one proposal to be sited right next to the Appalachian Trail.
"The Mountain Valley Pipeline is designed to carry fracked natural gas for over 300 miles through the Virginia and West Virginia countryside, crossing over dozens of water sources, protected areas, and over the A.T. itself," according to the ATC. The pipeline would cause permanent damage, ripping up a 125-foot wide swath of land surrounding the pipeline (see picture above). There would be an option to expand the corridor to 500 feet wide in the future according to the plan. Unacceptable.
Projects like these have no place in our national parks and trails. The pipeline would destroy thousands of acres of pristine forest, amidst wilderness and wildlife habitat, with clear-cut scars visible for up to 100 miles. We need to stop projects like these before they start.
*Get involved! Go to Appalachiantrail.org or call 540-449-1138